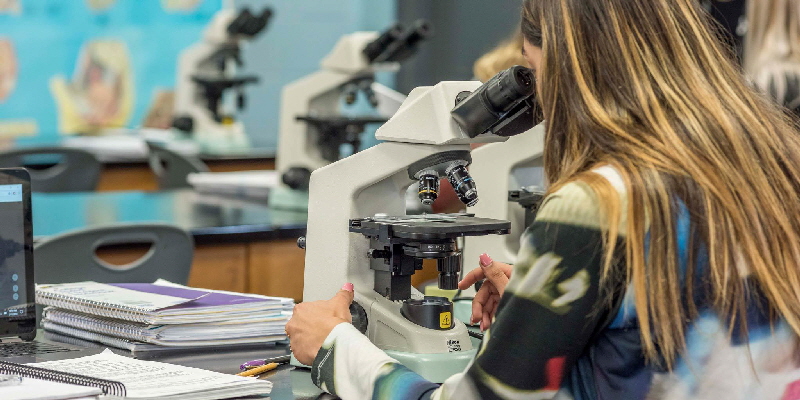 Your choice for education.
Features newly developed high-intensity LED illumination, providing uniform brightness in the entire field of view. A halogen illumination model is also available. Nikon's infinity corrected optics, designed especially for the Eclipse E100 microscope, uses state-of-the-art technology to produce outstanding performance. Nikon's CFI* optics achieve flat, sharp images that minimize distortion. Transparent specimens can be observed with phase contrast observation. Featuring a simple and easy-to-use design for beginners, strong rigidity to ensure high accuracy and a long life, and an easy-to-store structure, the Eclipse E100 is the perfect choice for a variety of purposes, including educational and routine laboratory research.
High-quality images with newly developed bright LED illumination and time-proven CFI optical system.
Eco-illumination provides enough brightness for phase contrast observation. With a fly-eye lens in the illuminator, uniform brightness is provided in the entire field of view. Using environmentally friendly long-life LEDs, Eco-illumination boasts a long lifetime of 60,000 hours and reduces the need for frequent lamp replacement. A halogen illumination model is also available.
High-intensity LED Eco-illumination
The dedicated Plan series 4x, 10x, 20x, 40x, 60x, and 100x (Oil) objective lenses provide superior image flatness. Chromatic aberration and field curvature are corrected over the entire field of view.
Plan series objective lenses for flat images

Trinocular eyepiece tube allows image capturing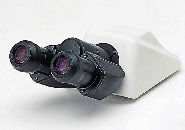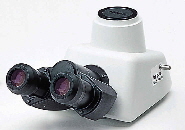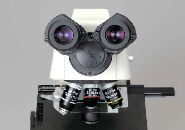 Either a binocular tube or a trinocular tube (to which a digital camera can be attached) can be selected. Both tubes have an eyepiece lens inclination of 30°, which allows for comfortable viewing. The eyepoint height can be adjusted by up to 34 mm, and the interpupillary distance and diopter can be changed to accommodate a wide range of operators.
1 Phase Condenser
2 CFI BE Plan Achromat DL Objectives
3 Phase Centering Telescope
4 E1-PHA Phase Contrast Slider A 10x/40x
5 E1-PHA Phase Contrast Slider B 40x/BF
6 E1-PHA Phase Contrast Slider C 40x/100x
7 45-mm Filter (GIF)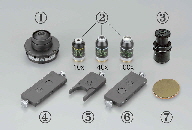 With an optional condenser, objectives and sliders dedicated for phase contrast and darkfield observation, even an unstained specimen that is colorless and transparent can be observed with clear contrast.
Phase contrast attachments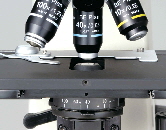 Condenser with position guide markings
The condenser comes with an aperture diaphragm with position guide markings for each objective magnification to make operations quick and easy.
The high-quality revolving nosepiece has a click-stop mechanism. A knurled elastic-covered grip provides easy rotation and eliminates the need to touch the objectives.
A built-in double-plate mechanical stage provides smooth XY dual travel control. The large, flat surface facilitates easy specimen handling.
Quadruple Nosepiece and Flat Top Mechanical Stage
Since 1931, Lukas Microscope has been a full service microscope Sales & Service dealer. With New Microscopes, Used Microscopes, Digital Cameras, Camera Adapters, Imaging Software, Video Systems, and Accessories for most brands, and by utilizing the best components of our various suppliers, we can assemble the best system to meet your needs.
If you need repair or PM service, we have factory trained technicians to service your microscopes We service most brands of microscopes including Nikon, Zeiss, Olympus, Leica, Meiji, American Optical, and Bausch & Lomb.

Please visit our on line store to find spare lamps, Light Guides, and a selection of Demo and Reconditioned Microscopes, Camera's, Software, and clearance items.

Authorized
Sales & Service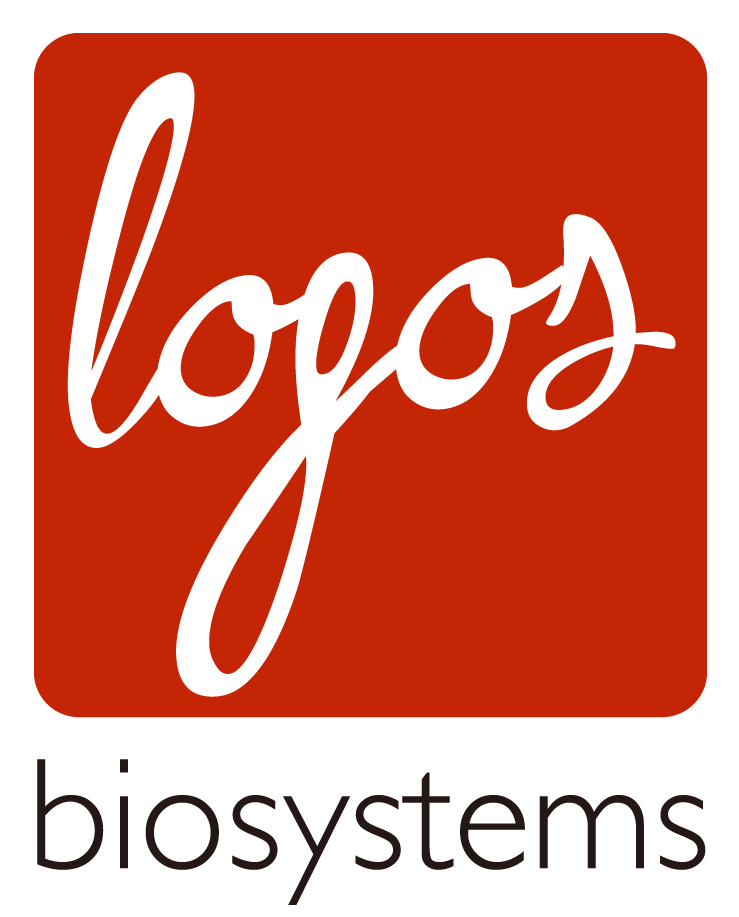 LUKAS MICROSCOPE SERVICE, INC.
25715 N Hillview Ct. Mundelein, IL. 60060
847-673-2600 sales@lukasmicroscope.com
serving microscopy since 1931


Please visit our on line store to find spare lamps, Light Guides, and a selection of Demo and Reconditioned Microscopes, Camera's, Software, and clearance items.